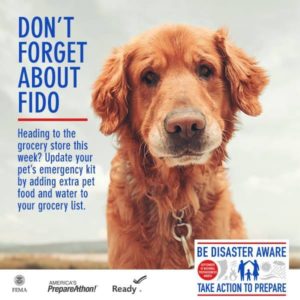 The Lancaster County Community Animal Response Team (CART) is a component of our CERT program.  The CART is made up of volunteers from the community with a desire to assist residents with their pets during an emergency or disaster.  The primary mission is to provide a safe place for evacuated pets to be housed, near their owners.  Lancaster County emergency services will provide a safe shelter for our residents and their pets during emergencies or disasters.
What would you do to care for your pet in the approach or wake of a catastrophe? Imagine that your area is in a state of emergency or has been hit by a natural disaster like a tornado, flood, fire, or storm. When you are told to evacuate, where do you take your animals to be safe? When your home has been destroyed, how do you intend to care for the pet you hold so dearly?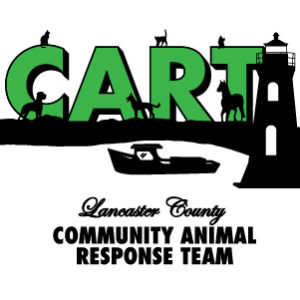 During Hurricane Katrina, some pet owners living in the path of the storm refused to evacuate their homes because they didn't want to abandon their animals or leave them in harm's way. Sadly, their choices put both the owners and the pets in danger. The solution to protecting both the pets and owners is to provide peace of mind for the owner while providing a safe place for their pets during disasters and emergencies. The goal of Virginia's State Animal Response Team (SART) and Community Animal Response Teams (CARTs) is to ensure that pet owners never again have to choose between their pets and their own safety during a natural disaster.
The CART program is always looking for new members with a passion for animals and a desire to serve.  Email info@ReadyLancaster.org for more information, today!