Hurricane season is June 1 – November 30. Plan Now.
The major hazards associated with hurricanes are:
Storm surge and large waves produced by hurricanes pose the greatest threat to life and property along the coast.
Storm Surge is an abnormal rise of water generated by a storm's winds. Storm surge can reach heights well over 20 feet and can span hundreds of miles of coastline.
Storm Tide is the water level rise during a storm due to the combination of storm surge and the astronomical tide.
The destructive power of storm surge and large battering waves can result in loss of life, buildings destroyed, beach and dune erosion and road and bridge damage along the coast. Storm surge can travel several miles inland. In estuaries and bayous, salt water intrusion endangers public health and the environment.
Tropical storms and depressions can be just as dangerous. Learn about hurricane formation, storm history and climatology.
Know Your Zone
On June 1, 2017, at the beginning of the 2017 Atlantic hurricane season, the Commonwealth of Virginia unveiled new hurricane evacuation zones for coastal Virginia designed to enhance current evacuation plans, boost public safety, and improve travel efficiency in the event of hurricanes or other disasters.
The new zones take into account historic storm surge measurements, combined with projected effects of storms of different intensity, path, speed, tides, and other meteorological factors.  The zones are based on the most up-to-date engineering data for the region.  Avoiding unnecessary evacuation travel will reduce traffic congestion, promote highway safety, and lessen overcrowding at storm shelters. The new zones enhance the current evacuation plans and routes already designated in coastal Virginia.

When a serious storm is expected to impact Virginia's coastal region, Lancaster County Emergency Services will work with the Virginia Department of Emergency Management to coordinate with local news media outlets that will broadcast and publish evacuation directives to the public.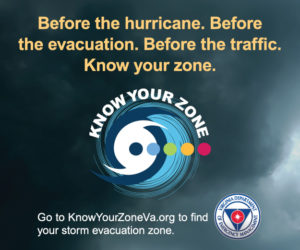 What do residents need to do for the new tiered evacuation zone plan–it's simple. You just need to Know Your Zone. To find out which zone you live (or work) in, visit www.KnowYourZoneVA.org.
The Know Your Zone website displays a detailed, interactive, color-coded map showing the new evacuation zones. People can use the new map to view a "big picture" of the region or zoom in to their neighborhood. Users can enter their address in a search bar to see their designated evacuation zone. You can also learn more about the zones at www.KnowYourZoneVA.org.
Preparing Your Family
Preparing Your Home
Make a checklist of things that need to be done to prepare your home when a hurricane or tropical storm threatens.

Hurricane winds can cause trees and branches to fall, so before hurricane season trim or remove damaged trees and limbs to keep you and your property safe.

Secure loose rain gutters and downspouts and clear any clogged areas or debris to prevent water damage to your property.

Reduce property damage by retrofitting to secure and reinforce the roof, windows and doors, including the garage doors.

Purchase a portable generator or install a generator for use during power outages. Remember to keep generators and other alternate power/heat sources outside, at least 20 feet away from windows and doors and protected from moisture; and NEVER try to power the house wiring by plugging a generator into a wall outlet.

Consider building a FEMA safe room or ICC 500 storm shelter designed for protection from high-winds and in locations above flooding levels.
Preparing for the Arrival of a Hurricane or Tropical Storm
36 Hours Before Arrival
Turn on your TV or radio in order to get the latest weather updates and emergency instructions.
Build or restock your emergency preparedness kit.
Plan how to communicate with family members if you lose power. For example, you can call, text, email or use social media. Remember that during disasters, sending text messages is usually reliable and faster than making phone calls because phone lines are often overloaded.

Review your evacuation plan with your family. You may have to leave quickly so plan ahead.

Keep your car in good working condition, and keep the gas tank full; stock your vehicle with emergency supplies and a change of clothes.
18 to 36 Hours Before Arrival
Bookmark www.lancova.com for quick access to storm updates and emergency instructions.

Bring loose, lightweight objects inside that could become projectiles in high winds (e.g., patio furniture, garbage cans); anchor objects that would be unsafe to bring inside (e.g., propane tanks); and trim or remove trees close enough to fall on the building.

Cover all of your home's windows. Permanent storm shutters offer the best protection for windows. A second option is to board up windows with 5/8" exterior grade or marine plywood, cut to fit and ready to install.

6 to 18 Hours Before Arrival
Turn on your TV/radio, or check www.lancova.com every 30 minutes in order to get the latest weather updates and emergency instructions.

Charge your cell phone now so you will have a full battery in case you lose power.
6 Hours Before Arrival
If you're not in an area that is recommended for evacuation, plan to stay at home or where you are and let friends and family know where you are.

Close storm shutters, and stay away from windows. Flying glass from broken windows could injure you.

Turn your refrigerator or freezer to the coldest setting and open only when necessary. If you lose power, food will last longer. Keep a thermometer in the refrigerator to be able to check the food temperature when the power is restored.

Turn on your TV/radio, or check your city/county website every 30 minutes in order to get the latest weather updates and emergency instructions.
Taking Action During A Storm
Stay tuned into local media and local officials.  Follow instructions from only official information sources

Follow instructions, including evacuation orders.

If not ordered to evacuate:

take refuge in a small interior room, closet or hallway on the lowest floor of your home

stay away from windows, skylights and glass doors

if the eye passes over the area, do not go outside – winds will rapidly intensify to hurricane strength from the opposite direction with little to no warning
Taking Action After A Storm
Continue listening to a NOAA Weather Radio and local officials.
If you evacuated, return home only when officials say it is safe.

Once home, drive only if necessary and avoid flooded roads and washed-out bridges. If you must go out, watch for fallen objects in the road, downed electrical wires, and weakened walls, bridges, roads, and sidewalks that might collapse.

Walk carefully around the outside of your home to check for loose power lines, gas leaks, and structural damage.

Stay out of any building if you smell gas, if floodwaters remain around the building, if the building or home was damaged by fire, or if the authorities have not declared it safe.

Carbon monoxide poisoning is one of the leading causes of death after storms in areas dealing with power outages. Never use a portable generator inside your home or garage. Review generator safety.
Use battery-powered flashlights. Do

NOT

use candles. Turn on your flashlight before entering a vacated building. The battery could produce a spark that could ignite leaking gas, if present.

In the case of an electrical outage, it is important to take careful precautions to ensure food safety. The risk of food poisoning is heightened when refrigerators and ovens are inoperable. Discard any food that has been at room temperature for two hours or more, and any food that has an unusual odor, color or texture. Just remember, "When in doubt, throw it out!" 

Tips for keeping food safe.

After a storm has passed, failure to remove contaminated materials from your home can cause health risks.  The Virginia Department of Health has developed tips to keep safe while perform post-storm cleanup.